How to create your own wake up light with Philips Hue
I really hate having to get up when it's still dark. Unfortunately, living in Northern Europe, at this time of year it's pretty much unavoidable.
Being wrenched out of deep sleep by an alarm - any alarm - is deeply unsatisfying. I've often thought about buying a wake up light to see whether that would be a more pleasant and natural way of waking up. I had a look on Amazon and found a couple of dedicated wake up lights. However, I thought they were a bit expensive and also what if I hated being woken up with an artificial light after all?
Philips Hue
I moved house earlier this year and ended up buying into the Philips Hue range of LED 'smart' lights. I did this chiefly because I wanted a relatively cheap way of installing dimmable led lights in my living room and kitchen. I bought a basic starter kit which comes with a bridge that you attach to your router and two white led light bulbs. I also bought a light strip for the underside of my kitchen cabinets. The landlord had put in cupboards above the kitchen work surface but had omitted to install any lighting. The light strip is a 2m long strip of led lights with adhesive on the back.
I also bought two dimmer switches: one to control the two living pendant lights and one for the kitchen cabinet lights. I don't do anything particularly fancy with the lights although you can go to town with the Hue API or IFTTT if you want. We did turn the lights blood red for Halloween, which the kids loved!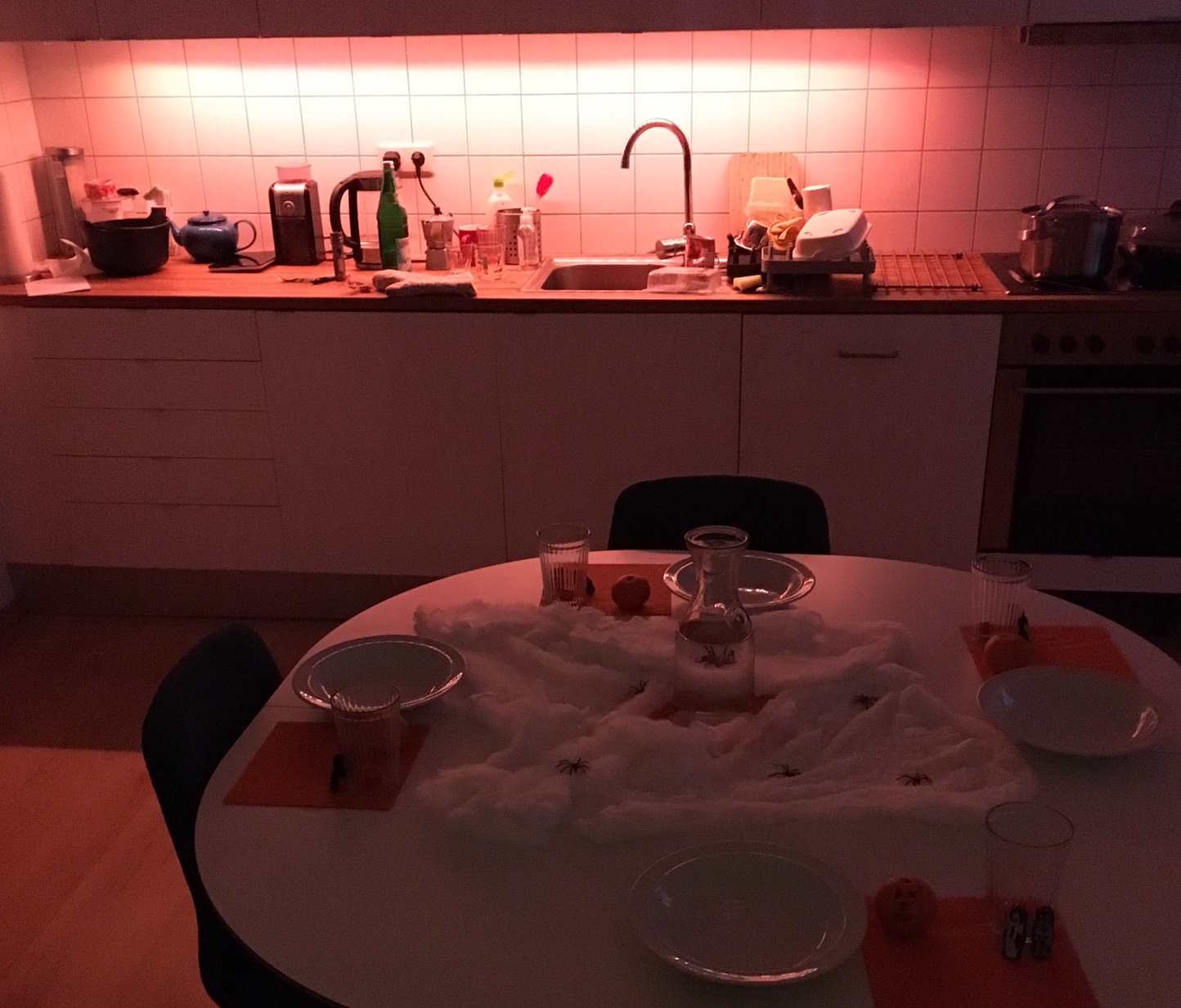 Building a wake up light for 45 Euros
Setting up my wake up light ended up being trivial.
I bought the Ikea Fado table lamp for 10€ (or $20, or £13) and another Philips Hue bulb.
I then used the Philips Hue app to set a daily wake up alarm.
Step 1: Select 'Routines' from the bottom navigation bar and then 'Wake up':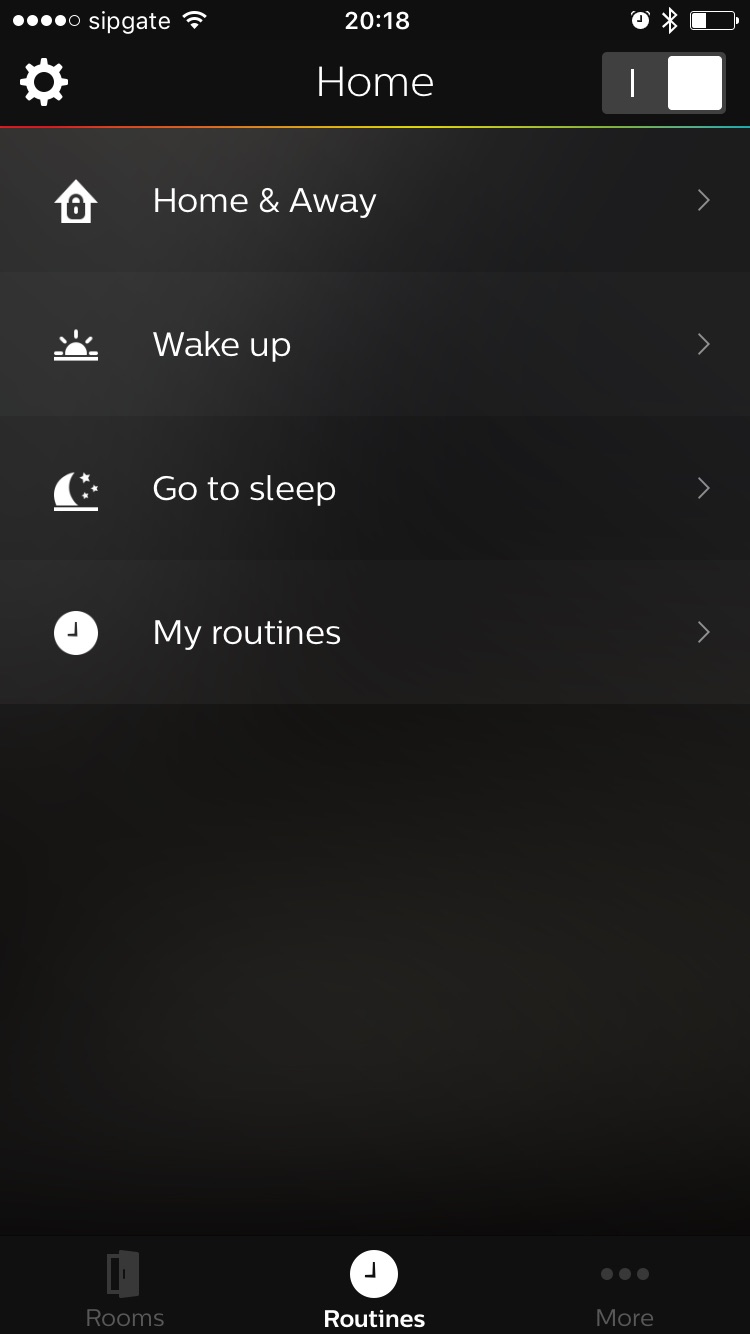 Step 2: Enter the settings for the new alarm:
Give it a name
Say when you want to wake up (at which time and on which days)
Set over which time period the light will fade in. The options are 10 minutes, 20 minutes and 30 minutes. This means that the light will turn on dimmed 10, 20 or 30 minutes before your wake up time and then gradually fade in.
Specify in which room (and which light bulbs in that room) you want this to apply to.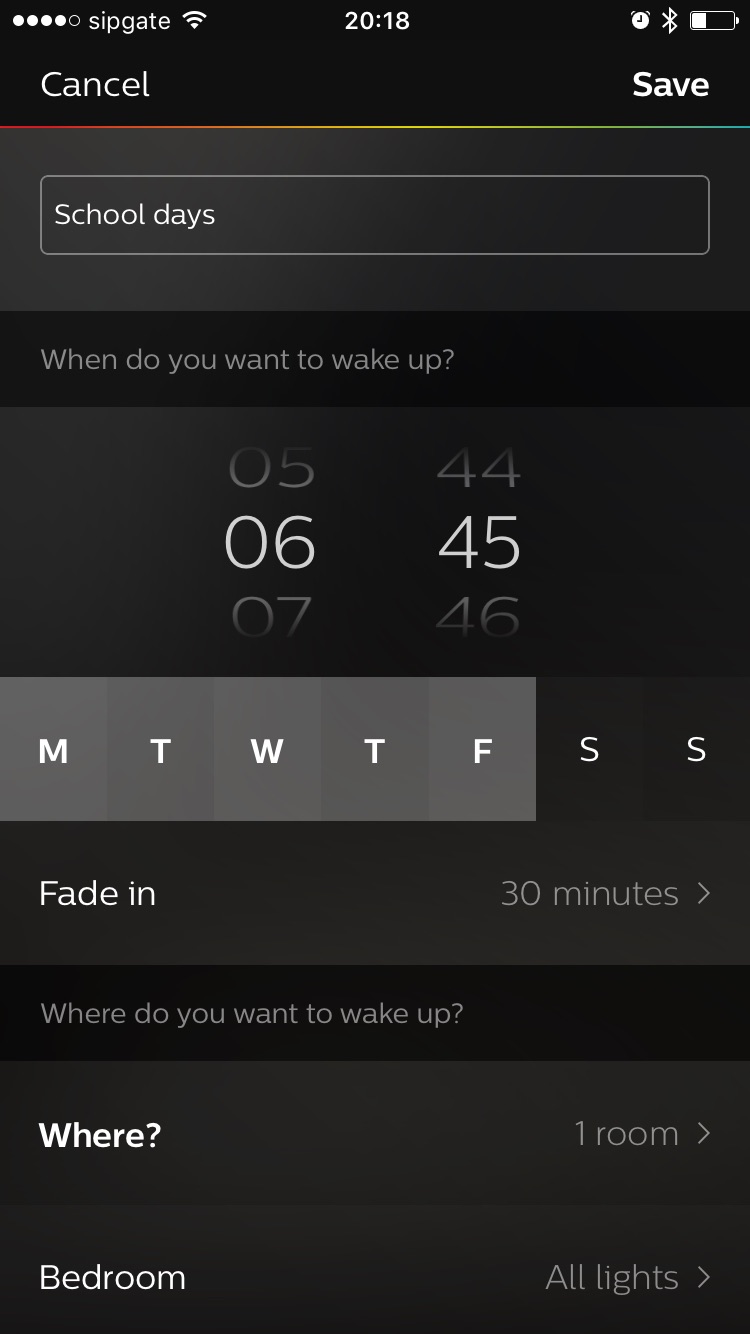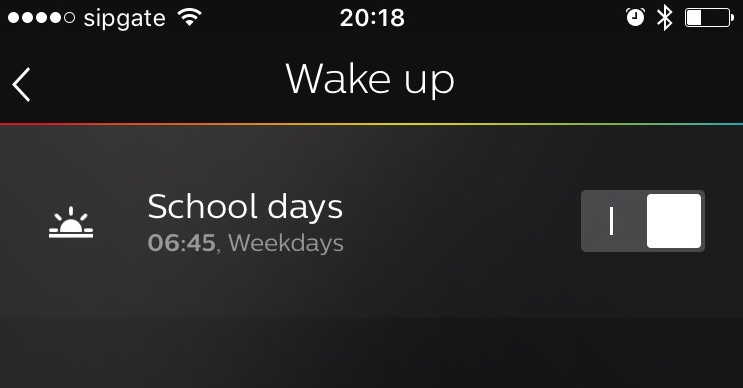 My Experience
The finished lamp looks like this (I think this is on its brightest setting, or near there).
I've found it has really helped me to get up in the morning. I still have a quiet alarm play but this is now more of a reminder to get up as the light has already (and more gradually) woken me up.
Given that this has an API, my next step is to link it to a calendar so that the lamp doesn't turn on for public holidays and does turn on for the Saturdays on which my daughter has school!